Notes from the Field
By Tina Brillinger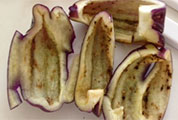 Working in the area of food safety has its advantages because it enables a person like me to learn about food recalls as soon as they happen. But in other ways, I gain insider knowledge that is decidedly not for the feint of heart. My expanded knowledge of how food is grown, slaughtered, rendered, processed, shipped, stored, sold and handled throughout the supply chain has altered the way I think about food, and the way I select it when I shop.
Living in an urban area, I am fortunate to have two grocery stores within walking distance of my home.  One is a major retailer and the other is an independent grocer. In recent years, the independent has quadrupled in size to keep up with growing demand for natural and healthy foods.  Even with the higher prices I had to pay, I found myself shopping there, even above the many local farmer markets I had previously patronized.
But then things started going downhill. Organic produce that appeared to be fresh was bad as soon as I cut into it. At first it was purple peppers, then pre-packaged vegetables for stir-fries, then so-called fresh peaches from Ontario's Niagara Region, labeled as organic and purchased at a premium for $4.99 per quart.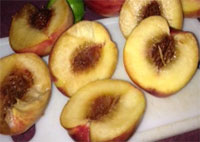 I took photos of my purchases and met with the store manager to express my dissatisfaction. When I asked if he had a HACCP food safety risk management program, he said they conducted internal audits of the store but not the produce section, which only went through a visual inspection. I told him that because I was paying a premium for organic produce I expected it should not only be the safest to eat but also of the highest quality. Looking doe-eyed, the store manager didn't quite know how to respond, so I informed him I would be taking my business where I knew produce was safe to eat.
End result?  I went back to the major chain retailer, because it has a higher standard of quality and safety, not to mention lower prices than the independent. Next spring, I'll take a second look at the local farmers, with whom I have never experienced a problem.
Meanwhile, in this issue we feature stories on a number of interesting food safety subjects.  One is entitled, "FSMA Proposed Rules: Treat Them Like They're Final," which is based on an interview with Bob Strong, Senior Consultant at SAI Global.  Christelle Gedeon, an Associate with Toronto-based Faskin Marineau, writes about "Ensuring Compliance to Avoid a Food Recall", while Lies Keough talks about Topco's use of TraceGains' technology in "Raising the Bar for Food Safety at Topco," and finally a trio of authors collaborated on a story entitled, "Chlorine Dioxide Technology for Improved Beer Quality and Safety at Sleeman."
I'm particularly happy to announce that we've launched our next generation website GFSR 2.0, with all our content now available in 60 languages. I'm confident that our improved navigation and search field will make it easier for visitors to zero in on the information that's important to them, pulling up all related multi-media on the site. This past year we have seen an increase of visitors on mobile platforms, so our new site provides easier and quicker access to executives on-the-go. We'd love to hear your feedback and invite you to sign up to become a Member.
This is our final issue of the year, and I'd like to thank all of you for your continued support and wish you a joyous time during the upcoming holiday season.
Yours in health!
Tina Brillinger
P.S.  I was definitely not dissapointed on a recent outing to Borough Market in London, U.K.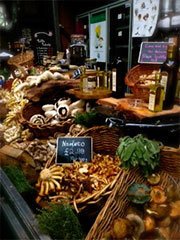 To have more articles like this emailed to your inbox, become a GFSR Member today!