Global Food Safety Resource® is an online interactive, resource and information hub that develops and shares relevant and insightful food safety content in 60 languages through multiple digital channels. Our goal is to educate food professionals operating in global supply chains to meet best practices for food safety standards and compliance. We receive 1.2 million website visits annually, with an increase of more than 500% over last year for stakeholder engagement. This represents a great opportunity for you to align your brand and product message with our content.
Advertising clients tell us consistently that the results they get from their campaigns outperform their efforts elsewhere. We invite you to read our Media Kit for 2021 to discover campaigns that can accelerate your marketing strategy to our targeted audience. Our experienced team will help craft a custom digital marketing campaign that ensures your brand and product messaging receives the highest visibility in the food safety space.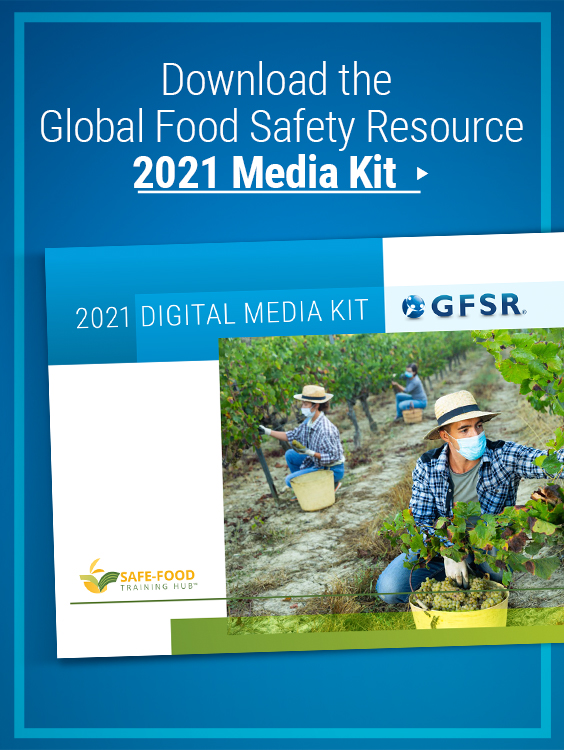 Contact us today to learn more about the GFSR advantage and how our audience and expertise are uniquely positioned to fast-track your goals. Our latest platform, the Safe-Food Training Hub™ provides companies and individuals with competitive course offerings from quality training vendors for employee growth and will be an essential tool to help build the necessary skills to meet food safety compliance. We invite you to explore our course catalogue and connect with us if you are a training provider seeking to economize on marketing and unlock the benefits of hosting your courses in a centralized marketplace of food safety professionals.
To learn more about our advertising options and campaign prices, please email advertising@gfsr.ca or click below:
 
TESTIMONIALS
"GFSR's white paper promotions have been very successful for us. A great way to connect with new audiences."
Cynthia Babb, Product Marketing Manager, Sparta Systems Inc.
"We approached GFSR with a last minute request. With their help in generating 2 emails campaigns, an events page listing, a banner on the website & blog, and a social media push, we are confident GFSR helped to drive attendance to our event. We found the experience to be near effortless and would recommend Tina and her team to anyone."
Heather Neilson, Sales & Marketing Support Manager, Allergen Control Group.
Together we can make food safe®