Gluten Free Overview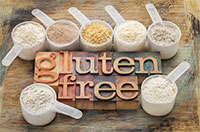 It's not easy being gluten-free.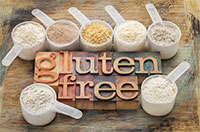 Gluten is one of the most common ingredients we find in food stuffs. Sometimes its presence is obvious, as in the case of bread and pasta. Other times it can be hidden. You might expect, for example, that store bought risotto would be gluten-free (rice is one of the grains that's naturally gluten-free). But other ingredients or preservatives in the product could contain gluten. The ingredient list and a familiarity with all the different terms that signal gluten is the only way to be sure.
Because gluten can pose a serious health risk for those with Celiac disease or severe gluten-sensitivity, governments have created legislation surrounding the labeling of gluten. These rules limit the amount of gluten detectable in a product to a scientifically determined safe threshold. The Federal Food and Drug Administration (FDA) and the Canadian Food Inspection Agency (CFIA) are two regulatory bodies with defined definitions of what legally constitutes "gluten-free".
It's been established that there's a market for gluten-free products. Consumers with Celiac disease, gluten-sensitivity, or those who choose to go gluten-free for health or lifestyle reasons are always looking for solutions to make their shopping experience easier.
The Gluten-Free Shopper
Shopping for gluten-free products is a challenge. It's not uncommon for consumers to visit multiple stores to find an adequate selection, and prices are usually higher (sometimes a lot higher – a gluten-free loaf of bread could be as high as $7 or more).
Gluten-free bloggers write about the complications and frustrations of their shopping experiences. They also write about the difficulty of communicating their needs in restaurants, get-togethers, and at school and work functions. While many are accommodated, some people don't understand how severe a gluten allergy or sensitivity can be.
Gluten-free shoppers, like all people who have to avoid a specific food, will rely first on the ingredient list. But once they've had a good experience with a brand, they become a loyal customer and tend to gravitate to those products first. Finally, a gluten-free certification label helps to give peace of mind and an added assurance of product safety.
In keeping with our society's move from paper to electronics, the food diaries many consumers carry with them to keep track of safe foods and foods to avoid may soon be replaced by handy online apps. One app currently in development is called GlutenFree247, offered by the Allergen Control Group (owner of the Gluten-Free Certification Program).
Gluten-Free Certification and Standards
Gluten is a very common ingredient, and it takes great care to make sure it's not present in products and raw ingredients. Gluten-free standards provide a step-by-step guide to help manufacturers, processors and retailers ensure products are gluten-free and to minimize the risk of contamination.
There are a number of gluten-free standards you can choose from when considering certification. Some of the key benefits to look for include:
facility versus product certification,

endorsed and informed by reputable organizations promoting Celiac awareness, and

accessible in the region or country where you're operating.
Product versus Facility Certification
Facility-focused certification is ideal and considered to be superior to product certification. Facility-based standards are holistic, and include sanitation and hygiene, training, record keeping, monitoring, root cause analysis, supply chain management and traceability.
End product testing is more limited. Even if it's bolstered by testing throughout the manufacturing and production process, the gold standard for food safety standards is to manage every aspect of your operation, including people and processes.
Brand yourself as a Certified Gluten-Free Provider
The benefits of going gluten-free are twofold: peace of mind in knowing you're taking every action possible to ensure product safety, and the ability to label your products to attract loyal customers.
The basis of a brand is a company's reputation. Gluten-free certification, and the label that goes along with it, shows customers that you care about more than the bottom line. Gluten-free certification is similar to fair trade, animal welfare, and environmental footprint standards in raising the bar for what food companies are doing to meet real needs and be good corporate citizens.
Of the thousands of products on the grocery store shelf, gluten-free certification labels are another way to stand out among the packages and attract loyal customers.
Gluten-Free Standards
Certification to a gluten-free standard provides an opportunity for the food industry. Developing a loyal customer base by providing safe products that give customers a good experience every time is good for the bottom line. It means your product stands out and garners sales. It also bolsters your existing brand profile and reputation for quality and safety.