Ensuring Food Safety through Halal Certification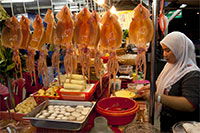 Halal foods have gained a larger presence in major European and North American fast food chains in recent years and supermarkets and food companies are jumping on the bandwagon to gain a competitive advantage.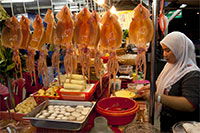 Technological advances mean that many consumers expect more transparency in the food production process. They want reassurance about humane practices and many consumers are now following their food "from farm-to-fork." Since Halal foods require rigorous production standards, consumers are beginning to see Halal food products as healthy, organic, ethical and "animal-friendly." Muslim consumers, for their part, want to maintain a Halal lifestyle, and they tend to be educated about food companies that follow Halal standards; a certifying body's stamp of approval is important.
What is Halal?
Halal is the Arabic word for "permissible" and Halal products are those that are "lawful" or permitted by Islamic laws. Prohibited foods are called "Haram." Halal is mostly concerned with how meat is handled in the food production process, and how cross-contamination is eliminated. Halal foods include grains, fruits and vegetables which must not be prepared with alcohol, animal fat, pork or other "Haram" ingredients.
According to Islamic law, animals have to be alive and healthy at the point of slaughter, which must occur according to a specific process that involves the draining of blood from the carcass and the recitation of a Muslim dedication honouring Allah. Halal animal slaughter was historically developed along spiritual principles that minimized pain and were humane and "pure."
Halal Standard
There is no set of global standards for Halal Certification, and there are many Halal certifying bodies; food companies can self-certify if they so desire, but Shaykh Tauqir Ishaq, Head of Certification at the Halal Authority Board (HAB) in the United Kingdom, warns against that idea: Halal and Haram are not always fully understood, non-Muslim companies are not always trusted to appreciate the complexities of Halal, and supplier declarations and certificates can be unreliable. Procedures must be quite robust, and even logistics such as alcohol-free handwashes need to be thought out and available for workers.
The HAB is a large certifying body that aims to create uniformity in Halal certification around the world. It has created its own Worldwide Standard, a comprehensive set of guidelines for the production of Halal meat, food and drink. The Standard was devised by Islamic scholars and industry leaders and it governs food health and safety regulations, storage, delivery, cleaning and cleansing, all of which take into account the potential for contamination from unacceptable ingredients. Using the HAB's database of certified Halal producers, food companies can acquire suppliers and third party certificates for Halal production.
Halal Certification
All procedures, facilities and equipment must meet the Worldwide Halal Standard in order to obtain Halal Certification through the HAB. Suppliers can apply for an audit with HAB inspectors and during the audit Muslim workers must be on the line and handling products; traceability and supplier approval processes must also be in place.
A follow-up to the audit outlines corrective action that might need to be made and a further audit is performed if necessary to verify that non-conformances have been closed out. Once certification has been granted, it is reviewed annually to ensure compliance is maintained.
It's important to bear in mind that even though a company has been Halal certified it is also required to have a global food safety certification (such as FSSC 22000, BRC, IFS or SQF, etc.). Halal certification is not viewed as an equivalency.
Traceability software can be extremely useful in streamlining the certification process and managing food safety regulations. Once a food company is certified, a symbol of approval with letter scripture can be fixed to the top of the product that signifies it as Halal.
Branding Asset
This symbol is crucial to gaining the trust and loyalty of Muslim consumers. Among younger Muslims, social media is actively used to spread rumors and misinformation – often false – about whether or not a company's products are Halal. It is important to choose a certifying body wisely and pursue one that is globally accepted and reviewed by Islamic Scholars. By understanding appropriate branding with clear labels connected to scripture, food companies can remove doubt with legitimacy and tap into the ever-growing Halal food market.
To have more articles like this emailed to your inbox, become a GFSR Member today!