GLOBALG.A.P.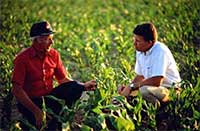 GLOBAL G.A.P grew as an off-shoot of the Canadian program, Canada GAP. GLOBAL G.A.P. focuses on safety and sustainability for primary producers, including the agriculture, livestock and aquaculture supply chains. The standard uses current knowledge of best practices and science to minimize environmental impact, set requirements for worker and animal welfare, and minimize the risk of contamination.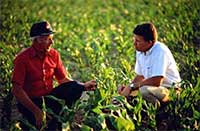 Many stakeholders came together to develop and maintain the standard, including the Technical and Standards Committees for each sector (crops, livestock, aquaculture), which are in turn supported by FoodPLUS (the GLOBALG.A.P. secretariat based in Germany).
There are four categories under the GLOBAL G.A.P. Standard:
Integrated Farm Assurance (IFA)

Compound Feed Manufacturer (CFM)

Plant Propagation Material (PPM)

Risk Assessment on Social Practice (GRASP)
Each category is comprised of 6 sub-categories of associated requirements:
General Regulations (GR)

Critical Control Points and Compliance Criteria (CPCC)

Inspection documents called Checklists (CL)

Approved National Interpretation Guidelines

Guidelines and Supporting Documents Benchmarking

Cross Reference Checklists (BMCL) where applicable
The audit process for GLOBALG.A.P., like other standards, comprises of a few parts. First, there is an optional preliminary 'gap analysis', which is used as a sort of trial run to identify any requirements that aren't being met. This is an efficient way to make sure everything is up to speed, prior to the official food safety certification audit.
The formal audit is divided into two parts:
Stage 1 – Assessment Process: Document Review provides an over-arching understanding of the organization which informs the second stage of the food safety audit. Any observed non-conformities uncovered during this stage must be resolved and 'closed out' prior to stage 2.
Stage 2 – Assessment Process: Food safety certification audit involves interviews with employees, examination of records and day-to-day operations, with results presented to the company upon completion. Once any non-conformities are addressed, a Certification Manager conducts a technical review and issues a formal certificate. Random, unannounced surveillance visits to assess continual adherence to requirements take place between certification audits, with full re-certification audits conducts once per year.
For more information about this food safety scheme's attributes visit its website at: www.globalgap.org/cms/front_content.php
To have more articles like this emailed to your inbox, become a GFSR Member today!