Integrated Pest Management: Partnering to Improve Food Safety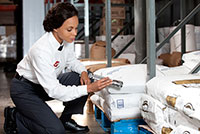 By Brita Ball 
A customer found a mouse in his food product. The mouse came from the processing plant. The pest control specialist had identified sanitation and structural deficiencies at the plant and documented them in his reports. Yet plant management had not ensured that corrective actions were taken. Whose fault was it, the food processor or the pest control company?
"Pest control specialists can only do so much to protect the food supply," says Dr. Zia Siddiqi, Director of Quality Systems at Orkin. The truth is, food business operators have to take an active role in integrated pest management by working closely with the specialists.
"In the last few years, pest control has become more technically involved, with licencing and restrictions on chemicals," Dr. Siddiqi says.
Tighter regulations for food safety, occupational health and safety, and the environment mean in-house pest control isn't an option for many food businesses these days. And since pests behave differently even within a species, controlling them effectively requires special knowledge of the pests themselves, as well as ways to safely and efficiently manage them.