Keeping it Safe: Sanitation of Refrigeration and Ice Making Equipment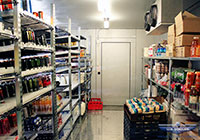 By Emily Mirren
Refrigerators and ice machines need more than a good cleaning every so often: they also need to be sanitized regularly. The temperatures in these machines are cold enough to slow the growth of bacteria, but they won't kill them. Cleaning alone is not enough!  There are many places where biological contamination can hide for a long time and operators need to be vigilant. Here's what you need to know in order to keep your machines sanitized and safe for use:
Read the Manual
The first thing to check is the manual of your refrigerator or ice machine. There are several pieces of information you'll need to find:
A refrigerated container with antimicrobial surfaces may not need to be sanitized often, but shelves and scoops might. Your owner's manual will give you all this information. Go to the manufacturer's website if you no longer have your manual. Most of them can be found online now. If liquid water can collect in an area, that spot needs sanitizing.
Where can it hide?
Any part of the machine that doesn't touch food can be cleaned, but if it touches food, including ice, then sanitation will be necessary. Where can bacteria hide?