Hollywood Dystopia Mirrors Beginning of Food Crises We Already See Today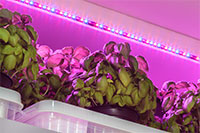 By Allie Gallant 
The 2014 movie Interstellar is set in the not-too-distant future. The world has become an increasingly uninhabitable dust bowl, and agriculture is reduced to a monoculture of one of the few crops that can survive, corn. It's a bleak situation. So hopeless, that the movie's heroes set out not to fix the world, but to find a new habitable one somewhere else in the universe. 
Moving the entire human race to a distant galaxy is definitely in the realm of science fiction. But changing weather patterns, soil degradation and water shortages are not. The world is already experiencing profound hardship. As resources become increasingly scarce, the pressure to find a sustainable solution that solves our water woes builds.
So where does the future of agriculture lie? Indoor facilities, like one in Japan, may hold the answer.
Water, Water Everywhere – and Not a Drop to Spare
Water is a renewable resource. But that doesn't mean its use is unlimited. There's as much water on the planet as ever, but less than 1% of it is actually available to us in freshwater form. The other 99% is locked in polar icecaps or in the ocean. It's also not uniformly available – 10 countries have 60% of the world's freshwater supply.