By David Acheson 
It's no news to the food industry that, despite a broad array of efforts to reduce outbreaks, pathogenic bacteria like Salmonella, Campylobacter, E. coliand Listeria are pervasive in the environment. What may not be as well known, or understood is that these food pathogens evolve into different strains to adapt to changing surroundings.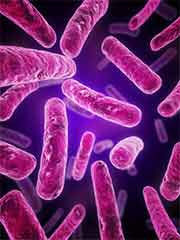 In fact, there is a lot about these bacteria that scientists do not understand, including where they live, how they survive or multiply in adverse environments, and if there are unique geographic niches.
The advancement of just such understanding was, in fact, the impetus behind an announcement made last week about the new "100K Genome Project," a five-year collaboration of FDA, University of California/Davis, Agilent Technologies and CDC, for the creation of a public database of the gene sequences of 100,000 bacteria that have been responsible for foodborne illness outbreaks around the world. The goal of the project is to give public health officials tools to more rapidly identify the source of the contamination and bring outbreaks under control faster. Researchers and public health officials around the world will have open access to the database.
Currently, pulsed field gel electrophoresis (PFGE) is the standard tool used to identify bacteria suspected in an outbreak. As I stated in a 2011 newsletter, one of the most impressive public health tools to emerge in the last two decades has been the development and wide spread adoption of PFGE. Its use in state and federal public health laboratories has resulted in an amazing capacity to link a series of apparently unrelated cases of foodborne illness in different states into one outbreak and, as a result of this recognition and subsequent investigation, find common food sources (e.g. peanut butter) or food exposures (e.g. a single restaurant).
However, PFGE is not perfect. Its accuracy is highly dependent on the number of enzymes used in the process. Because it is typically only two enzymes that are used, this is often not enough to positively conclude that the isolates are of the same strain—or not. Thus, as I also stated in that article, the next phase in the quest for cutting edge molecular epidemiology is emerging in the form of next generation sequencing (NGS) technology–allowing public health officials to undertake full sequencing of bacterial genomes in a very short time.  This will translate into more foods, and thus more food companies, being linked to human illness.
One of the powers of PFGE is the database that has been built over time. The recent announcement is now going to build a similar database using whole genomes. The database will provide a roadmap for development of tests to identify pathogens and provide information about the origin of the pathogen. And when used as part of an overall surveillance and outbreak investigation system, the genetic relatedness of pathogens can be correlated with corresponding geographic information enabling public health officials to more quickly infer the source of the contamination.
What This Means to You
At the recent American Society for Microbiology meeting, a representative from CDC made the comment that in time we will link more and more small clusters of illness to specific foods. This new database will help establish the systems to do this. In past years, there has often been the feeling that the tools are too blunt to link illness with food and thus "my brand" is not likely to be implicated even if I was the source of the problem. Those days are disappearing – the tools are getting sharper, and thus the likelihood that your brand will be implicated is increasing. The message is clear – no one is perfect and the regulators know that problems can arise in the most robust systems. But when problems arise in food companies that do not have robust preventive controls and are not operating at best practice levels, regulators tend to be "less understanding".
As we reported in May, the current increase in rapid methods may be coming at the expense of culture-dependent methods that feed systems like PulseNet. At a "Culture Independent Diagnostics Forum" held in Atlanta, GA., speakers painted a picture illustrating that the reliance on rapid clinical methods to confirm the diagnosis of illness in a patient meant that the longer, more laborious (and seemingly duplicative) confirmatory tests that yielded a culture would be abandoned. Without this culture—the spot on the plate—tests like PFGE that yield the molecular fingerprints fed to PulseNet would cease to exist. With another meeting on building a genomic epidemiology molecular network scheduled for September, it will be very interesting to watch where this goes … and the continuing impact on the food industry.
As this database provides a better understanding of genotypes associated with particular geographic location or specific food type, this information will be used by the Agency as a reason to focus on foods that may not otherwise be suspected as a cause of illness. This will translate into more foods, and thus more food companies, being linked to human illness. Thus, once again this continuing evolution of science emphasizes the need for preventive controls and robust environmental programs—in your facilities as well as those of your suppliers—to minimize the likelihood of contaminated products reaching the market place.
In addition, as we've frequently said, collaborative partnerships such as that being utilized for this project are critical to the continued improvement of U.S. food safety and are an intricate aspect of the Food Safety Modernization Act. As such, industry can, and should, get involved as well. As a part of this project's collaboration, UC Davis is forming a consortium, for which participants will draw from a variety of stakeholders including federal, state, and local public health laboratories, food manufacturers, industries, and academic organizations. Whether or not you become a consortium participant, you should ensure you stay informed on this and other such initiatives and make your voice heard.
About the Author
David Acheson is Managing Director, Food and Import Safety Practice, Leavitt Partners.
To have more articles like this emailed to your inbox, become a GFSR Member today!