By Joan Martino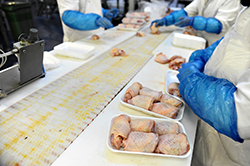 When my son entered Junior Kindergarten a few decades ago, his teacher had a conversation with me praising his high energy and then she proceeded to tell me that he was probably going to struggle within the "system." Being somewhat of a maverick myself, I knew exactly what she was talking about, so I spent many years teaching him how to conform.
In the world of food safety, there are regulations and requirements that a business must comply with and conform to. So what is the difference? By definition: to comply, is to conduct yourself in a legal manner, adhering to an Act or Regulation. To conform usually refers to actions or behaviors that align with a Standard, a set of criteria or a procedure. In other words, "play by the rules," whatever they maybe.
Sometimes, rules seem like laws, written in stone like the Ten Commandments. In some cases, and in the absence of clear laws or regulations, conforming to a guideline or a Standard is the best method to adopt.
The real question here is not whether to conform or comply, as both will impact operations, but rather when to say "NO" to the endless requests that we confront to change our established processes. Areas that affect food safety, quality and legality may not be neglected, ever! But finding an answer for any other issue is usually substantially more complicated.
"Areas that affect food safety, quality and legality may not be neglected, ever!"
It is important to recognize that food safety is not a game and the cost of poor quality hurts every aspect of the business. Going beyond a requirement to continuously improve, and enhancing a process, are good business practices. When done correctly, there are measureable returns to the bottom line. In most food processing areas a simple financial reference may look like this;
Profit = Sales – (direct costs + overhead).
Since costs are incurred through many aspects of the operation including direct labor, every time a procedure is changed and another hoop added, the equation is affected.
In operations, minimizing costs and providing value is a constant challenge. Pushing back is more political than operational and involves relationships within an organization and beyond with customers and suppliers. Focusing on the business and not the emotion, and collaborating toward positive and productive outcomes is a good approach. There are various tools that may be used to assess risk and conformance, keeping the relationships of the people or groups, and the importance of the task or goal, in mind.
With such tools, one might consider the weighting of a customer requirement to use a special pallet configuration on a shipment as a high importance for the task; it's an equally high importance in the relationship, as the request is coming from the customer. The challenge arises when 100 loads require 100 different configurations.
Without a doubt, providing value to customers is a constant challenge in the highly competitive, low margin food industry where exposure to risk and increased costs are an everyday occurrence. Compliance to all legal requirements is crucial to ensuring food safety is maintained, and conforming to established guidelines, is always preferable. Given that there are costs involved, engaging the expertise of a skilled and well-trained workforce, empowered to make the right decisions, can drive a business past all the hoops and straight to the finish line.
---
About the Author
Joan Martino is CEO of Quality Supply Chain, a company that provides simplified solutions to address regulatory compliance, supply chain initiatives and audit requirements for multiple industry sectors including food manufacturers, hospitality, retail, warehousing, packaging and equipment suppliers. She has also helped many leading US and Canadian companies integrate their systems with HACCP and GFSI requirements.