By Yves Rey | March 31st, 2016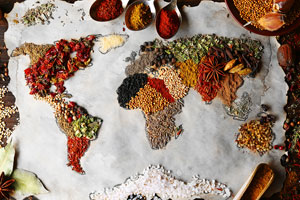 Yves Rey is the former chairman of the GFSI Board and Corporate Quality General Manager at Groupe Danone and GFSR is pleased to bring his insights and observations on capacity building to our readers in this three-part series.
Leading the Charge for Food Safety Capacity Building: Four Global Initiatives
Part One: The Global Food Safety Context and the GFSI Mission
We need to promote the development of competencies and capacity building in food safety
Food manufacturers operate in an environment which must take into account consumer needs, their expectations for safe products, commercial realities and government requirements. What's more, these multiple considerations must be satisfied against the background of an increasingly complex international environment. For example:
The global food system will need to double or even triple to feed nine billion people by 2050 on a planet already suffering from limited fresh water and farmland.

The food chain is longer and more complex than ever before: today's modern supply chain can now clearly span the globe; food and food ingredients are rapidly moved across countries and between continents

The laws, regulations and legislation among the many nations participating in the global food trade are, unfortunately, too often inconsistent

The consumer perception of risks, and their influence on purchasing behavior, are, in most cases, disconnected from science-based risk assessments.
The main actions that become imperative, and that must be carried out in order to achieve the objective of a safe global food supply chain, can be counted on the fingers of one hand. We need:
Harmonization of food safety regulations and laws around the world to ensure one safe and fair global food supply

Development of food science, and new technologies and products to ensure the production of safe foods while maximizing yield and reducing costs

Adaptation of communication to align the ways consumers and experts think about risks and good nutrition with the aim of restoring consumers' trust, which is at its worst. And, ultimately,

Assurances that energy, water, farm lands and other resources are used most efficiently, and that environmental impacts are minimized
But, first and foremost, and in keeping with a main principle that every improvement can be shaped around people skills and expertise, we need to promote the development of competencies and capacity building in food safety from farm to table to create a consistent and effective global food system. In my own work to promote a safe global food supply chain, I see four main areas where capacity building is being carried out in a powerful manner: the Global Food Safety Initiative (GFSI), the Global Food Safety Partnership (GFSP), Safe and Secure Approaches in Field Environments (SSAFE) and through the efforts of my own company, Danone. Here's what's happening in these areas:
Global Food Safety Initiative (GFSI)
One of the first business-driven initiatives in the field of capacity building was launched under the GFSI leadership in 2008. This capacity building program goes under the generic name of the Global Markets Program.
The Global Markets Program for small and/or less developed businesses (SLDBs) helps develop effective food safety systems through systematic continuous improvements. Market opportunities for SLDBs often exist within formal supply chains where entry requirements may be high. The GFSI Global Markets Program helps to build food safety capacity for (SLDBs) that do not necessarily have access to the expertise, or technical or financial resources that would allow them to meet all necessary food safety requirements.
The development of the GFSI Global Markets Program has been led by representatives from retail, manufacturing, food service, primary production and certification bodies.
The General Objectives of this program are to:
Provide a step-by-step program designed to develop effective food safety systems

Help build a food safety system in a realistic period of time

Reassure customers that effective food safety programs are being developed

Facilitate market access

Provide a framework for training

Create mutual acceptance along the supply chain
Unlike other food safety joint actions, in particular benchmarking of food safety schemes and auditor competences, this capacity building program was left to the initiative of food-related companies.
Over the past few years, in partnership with UNIDO, which is one of the most dynamic and expert organizations in this field, many companies or groups of companies have rolled out the Global Markets Program in several countries: for example, Metro in Eastern Europe, Aeon in Malaysia, and Danone, Cargill and Coca-Cola in India and China. These latter companies have benefited from the cooperation of learning service providers such as Shanghai Jiatong University in China and certification bodies such as DNVGL in India.
2nd of 3 parts to be continued in next month's eye on Food Safety e-newsletter
About the Author
Yves Rey is Senior Advisor to the DANONE Board of Directors. He is also the former Corporate Quality General Manager, DANONE Group, and the former Chairman of the board of Global Food Safety Initiatives (GFSI). He has more than four decades of experience working for the world's leading food, beverage and packaging companies in 10 different countries, and he holds MSc. Degrees in chemistry and biochemistry from ENSAIA, France.
To have more articles like this emailed to your inbox, become a GFSR Member today!