ConAgra Foods, which is headquartered in Omaha, Nebraska, is one of North America's leading food producers, with brands in 97 percent of America's households. Examples include Banquet®, Chef Boyardee®, Egg Beaters®, Healthy Choice®, Hebrew National®, Hunt's®, Marie Callender's®, Orville Redenbacher's®, PAM®, Peter Pan®, Reddi-wip®, and many others.
The company has a strong reputation not only in food safety, but also sustainability. ConAgra Foods was a founding member of AMERIPEN, which is an industry organization dedicated to analyzing the environmental and social effects of packaging, creating a better understanding of the role of packaging, and minimizing its environmental impacts. AMERIPEN's members span the full range of packaging value chain operators, from producers and users, to retailers and recyclers.
In 2011, ConAgra Mills, one of ConAgra Foods' commercial businesses, launched a new line of flours for the bakery industry called "SafeGuard." While primarily focused on wheat, the technology is applicable to a number of grains. The main idea behind SafeGuard is to provide the industry with flour, even if eaten raw, that helps mitigate the risk of consumers getting sick. It's a bigger problem than one might imagine. Flour often ends up being eaten raw before being cooked: fingerfulls of fresh dough for breads and cake mix before they enter the oven for baking are prime examples. Others include frozen pizzas, pies, cakes, brownies, soups, and other mixes, just to name a few.
Flour, being milled from a raw agricultural product, can pick up pathogens in the environment. The company has developed not just a product, but a whole delivery system, that can provide any major brand owner or bakery with a good night's sleep when it comes to health risks associated with fresh flour.
"ConAgra Mills is helping address this issue with a state-of-the-art integrated production and distribution process for its complete line of SafeGuard ready-to-eat flours," says Glen Weaver, ConAgra Mills' Director Technical Services. "Using an all-natural treatment process similar to pasteurization to mitigate microbiological risks, SafeGuard provides customers with safe flour for their unfinished foods, helping minimize food safety risks."
Following is a Q&A with Glen Weaver with more specifics on how the SafeGuard system works.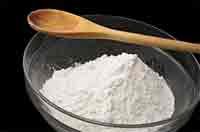 When did you introduce SafeGuard, and why now? Were there specific reasons or events that led your company to developing this product?
Our consumer insights showed that some products intended to be baked or cooked at home may be consumed raw or undercooked, despite clear warnings from food makers on the health risks posed by consuming raw or undercooked food. SafeGuard has been available in bulk since 2011- it was previously only available in 50 pound bags. We have been working on this product for some time and are proud to introduce ready-to-eat flour as it will raise the bar for flour food safety, while still maintaining the flavor, texture, appearance, and performance of typical flour.
What is the "log" rating for traditional flour?
Flour is intended to be cooked or baked; however, there are situations where flour is consumed raw. Most customers require 3 log reduction for safety, however, SafeGuard goes above and beyond this standard. SafeGuard flour goes through a series of all-natural treatment processes which is similar to pasteurization that reduces the amount of pathogens that can be found in the product due to it being a natural agriculture product.
How does SafeGuard price compare to traditional flour?
Safeguard costs more than regular flour because of the additional steps necessary to provide ready-to-eat flour, but this must be weighed against the possibilities of a recall and damage to a brand's reputation. For our customers, SafeGuard is a key component in protecting their brands.
When you say SafeGuard is "the only ready-to-eat functional flour on the market," is it OK to eat it without cooking or baking first?
Ready-to-eat means that the flour is safe to eat without any further cooking steps. Flour is intended to be cooked or baked; however, there are situations where flour is consumed raw.
How are you promoting SafeGuard to the food industry, and how is it being received?
SafeGuard has been well received in the industry because there is nothing like it available in the market. Companies that take pride in their brand and reputation have seen great value from incorporating SafeGuard into their products. While we promote it through events and marketing, we're also heavily involved, along with ConAgra Foods, in many food safety organizations.
How is SafeGuard distributed?
Safeguard is available in 50 pound bags and in bulk. Bulk supply of ready-to-eat flour is a first in the industry. With SafeGuard, we developed a unique delivery system that involves custom-designed flour tankers. The tankers go through a validated cleaning process that exceeds common flour-milling standards before picking up flour and delivering it to customers.
Are there other similar products SafeGuard competes against on the market?
There are other treated flours in the market, but SafeGuard flour goes through a series of all-natural treatment processes that reduce the amount of pathogens while also protecting gluten functionality, which allows it to be used in all applications – the only flour to do so in the industry. With other treated flours, you lose the gluten functionality. This limits the number of applications that those flours can be used in.
What is "gluten functionality" and why is it important?
Gluten performs a variety of important functions in baking such as helping add elasticity to doughs that are baked into breads. It is what causes bread to rise and helps cookies spread. SafeGuard ready-to-eat flour maintains absorption, starch quality, gluten vitality and enzyme activity – all things that are important to bakers.
In summary, ConAgra Mills invested in this innovation as part of its ongoing commitment to be a steward of its customers' brands while providing them with a preventive solution that delivers flour food safety directly to their production facilities.
For more information about SafeGuard flour from ConAgra Mills, please visit http://www.conagramills.com/our_products/safeguard.jsp
To have more articles like this emailed to your inbox, become a GFSR Member today!