Moving Forward with Reverse Logistics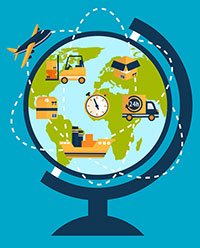 The case for implementing a reverse logistics program
By Clare Tattersall 
A food recall is bad news for any business but it can be debilitating for those that don't have an effective reverse logistics program in place.
Take Tesco, which was hit hard following the horsemeat scandal of 2013. The British-based multinational supermarket chain suffered an unpalatable profit loss after news broke that some of its beef products were contaminated with horsemeat. Although Tesco cleared store shelves and promised to thoroughly investigate the matter, it still sustained subsequent setbacks. Not only did the U.K.'s advertising watchdog chastise the retailer for leading the public to believe "all retailers and suppliers were likely to have sold products contaminated with horsemeat," which was not the case, but Tesco was unable to pinpoint how long its suppliers had been delivering contaminated product. This left a bad taste in shoppers' mouths and resulted in a loss of confidence in the retailer.
"It's astonishing that you still see grocery retailers that believe they can operate without a reverse logistics program or an inadequate one at best," says Gailen Vick, executive director of the Reverse Logistics Association (RLA).
But it's the case, albeit things are changing.
The benefits of a good reverse logistics strategy