FAO/WHO Guide for Developing and Improving National Food Recall Systems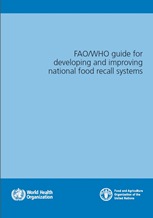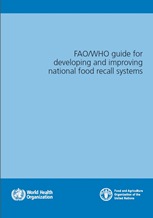 The Food and Agriculture Organization of the United Nations (FAO) and the World Health Organization (WHO) published this document, FAO/WHO guide for developing and improving national food recall systems, in late 2012. It acts as a best practice guideline based on the application of risk analysis principles and procedures during food safety events. The guideline is intended as an essential guide on how to set up and structure national food recall systems.  Effective public sector food recall systems are a foundational element in food risk management and effective responses to food safety crises. Many economies are in need of guidance in setting up effective food recall systems and a food safety regulatory framework.
The following are brief excerpts from the contents of the FAO/WHO guidance document for food recall systems:
Step 1. Understanding the importance of shared responsibilities
The first step in the development or improvement of national food recall systems is to understand and emphasize the importance of the shared responsibility between the government/competent authority and the food industry. This includes acting decisively and rapidly to remove unsafe food from the market and to inform consumers of the problem when the unsafe food has reached them, in the interest of protecting public health.
Step 2. Review of the current national food recall system
When developing national food recall systems, and in order to build on or improve the current situation where necessary, it is important to consider whether the following key elements are included in a food recall system: