Risk Based Systems in Packaging Manufacturing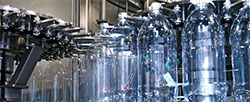 By Neil Milvain
The British Retail Consortium (BRC) has recently released the latest edition of their Packaging Standard. This is a significant move towards standardizing the production of packaging materials, not just within the food industry but also in other sectors that were perhaps previously overlooked.
Does Quality Pose a Safety Risk?
One of the changes within the standard is to include quality within the risk assessment. This will no doubt pose some challenges to the way the hazard analysis is currently used. For example, in some circumstances, is quality more important than the potential food safety risk presented by the packaging material?