TORONTO, ON (PRWEB) AUGUST 26, 2015 – A strong focus on continuous improvement and a dedication to enhancing value at every turn has resulted in a dramatic increase in the number of visitors to Global Food Safety Resource's web site over the past year, according to GFSR CEO Tina Brillinger.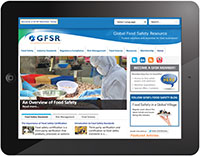 "We've been thrilled with the results of our efforts," Brillinger says. "Food safety is an issue that affects everybody on the planet. Whether you live in a rural African landholding or a modern American city, the safety of what you're putting in your mouth affects the quality of your life. Being able to provide information to food businesses to improve food standards and meet compliance that will ultimately improve the health of the consumer is what motivates us; it's incredibly rewarding."
Brillinger notes that she founded GFSR six years ago with a mission to bring the best food safety information possible to people working in food-related supply chains. She says that GFSR has grown its member base substantially and publishes monthly updates through multiple digital channels on issues that affect food safety around the world – from food regulations to industry standards that highlight issues related to traceability, risk management or how to implement a food safety culture.
Among other highlights, the GFSR analytics are showing a 350% increase in new visitors over the past year and the number of returning visitors has more than doubled. In addition, the number of page views per month is 250% higher than a year ago. Visitors spend an average of 7:22 minutes on the site and review an average of 3.5 pages. "We see a great deal of potential for growth," states Brillinger, "especially in the area of training as businesses (at all levels) seek to meet new standards for food."
GFSR works with many companies that advertise their products and services to a niche target audience. Others take advantage of sponsorship opportunities that can provide enhanced brand exposure by aligning with an established platform like GFSR, which is represented at many international food safety conferences.
"GFSR's expansion into emerging markets has grown considerably with its ability to provide content in 60 languages and through a mobile platform; the time is right to further invest in new resources" says Brillinger
"We are proud to be a Media Partner for the China International Food Safety & Quality Conference in Beijing, China, November 4-5th, 2015," Brillinger notes, " China is a market that is working hard to overcome a bad rap stemming from many food safety events, including the adulteration of a variety of food products we see in the news."
"Our analytics are showing some major increases in the number of people accessing our site and they also reflect the fact that our visitors are staying on site more than twice as long as they were a year ago," she adds. "The data indicates that a substantial number of people are coming to GFSR's site for information on food safety compliance to meet new regulations, as well as for information on industry certifications."
Toronto resident Ian Hastings stepped into an executive position with the organization earlier this summer as Assistant Operations Manager.
"Ian has strong organizational capabilities and an excellent sense of strategic direction and, in addition, he will be working closely with key industry partners for collaboration to bring even more valuable resources to our members," Brillinger adds. "He builds rapport with people very quickly and he shows excellent leadership capability. We are thrilled that he is joining our team."
About GFSR 
Global Food Safety Resource is an online information hub delivering trusted food safety solutions and expertise to food businesses operating in global markets. GFSR strives to promote best practices to all sectors of the food industry by offering multi-channel access to online communications in up to 60 languages. GFSR's mission is to ensure a safer food supply.
To have more articles like this emailed to your inbox, become a GFSR Member today!