By Norbert van den Berg and Pascal Inauen
Airline catering has unique challenges compared to other types of foodservice. Restaurants, for instance, have a fixed physical address, while servers and diners aboard aircraft leave the physical presence of the earth; have a confined area for food preparation and consumption; and largely consume meals hours rather than minutes after the food was initially prepared.
Gate Gourmet, whose parent company gategroup is headquartered in Zurich, Switzerland, with corporate centers in Reston, VA, and London, UK, prepares 250+ million airline meals a year at more than 120 flight kitchens around the world. The company conducts as many as 1,200 food safety checks each day and maintains a food safety record that's considered among the best in the foodservice industry.
HACCP guides the numerous quality-focused procedures across the entire production process and supply chain. Goods are inspected for foreign bodies, prohibited items, and overall quality and sensory characteristics. Strict standard operating procedures govern how dishes are washed and preparation surfaces are cleaned and sanitized. Employees undergo robust training regarding hygiene, sanitation and proper food handling procedures. And time and temperature of foods are carefully monitored and recorded throughout the day. All of these measures and more are regularly evaluated by airline customers, government agencies, and independent third-party auditors.
Steps in Delivery
Food is cooked to a pre-determined temperature on the ground, and reaches its final internal cooking temperature when reheated aboard the aircraft. Airline catering recipes are precise and account for the additional cooking time, cabin pressure and other variables to maintain the food's quality, taste and texture.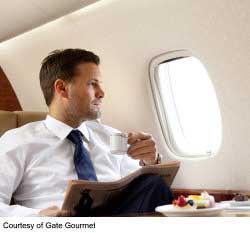 In the receiving area, employees inspect each incoming vehicle and raw material, ensuring cold foods are 41°F or below and frozen food are at 32°F without signs of thawing. (CCP1)
Foods are then labeled with color-coded "receiving date" stickers and applicable "use by" dates and segregated by category (vegetable from animal), as well as by cooking temperature (fish from chicken from beef). The internal temperatures of refrigerators and freezers are monitored by electronic sensors, which would immediately generate alerts to the appropriate team members for urgent action in the event of any irregularity. (CCP2)
In the hot production area, cooks employed in airline catering are grilling and sautéing. They use probe thermometers to ensure their cooked food reaches its required core temperature to destroy any harmful pathogens, a measurement that must be held for 15 seconds. (CCP3)
Cooked food is immediately placed into a blast chiller, the most effective tool in safely decreasing food's temperature to 41°F or below within four hours. (CCP4)
Cooled food is transferred to the cold production area. Many Gate Gourmet kitchens maintain cold prep rooms at 41°F or below. Employees are intensely focused on food handling processes and time limits for food exposed to non-refrigerated environments. (CCP5)
All prepared food is quality-checked and placed on in-flight carts, and employees measure its temperature again before dispatching carts to an aircraft via catering trucks. To maintain the integrity of the cold chain, temperature checks once again are performed as the food is boarded on the designated aircraft. In the event of gate changes, weather or other delays, aircraft swaps, etc., caterers work closely with airline carriers to monitor and alter the movement of food as defined in standard operation procedures. (CCP6)
In an industry that works to the clock and around the clock promoting service excellence, there's nothing more important than food safety, especially in airline catering.
About the Author
Norbert van den Berg is Chief Operations Excellence and Compliance Officer for gategroup, the leading independent global provider of products, services and solutions related to a passenger's onboard experience. Pascal Inauen is the company's global Director of Quality Assurance and Food Safety. Norbert and Pascal were supported in the publication of this story by Christina Ulosevich of gategroup's Corporate Communications team.
To have more articles like this emailed to your inbox, become a GFSR Member today!