Global Food Safety Resource's focus on supporting a "farm to fork" traceability continuum received a huge boost this week as the company announced a new partnership with Authenticateit, an Australian company that is taking the world by storm with its anti-counterfeiting and consumer engagement platform.
FOR IMMEDIATE RELEASE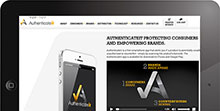 Toronto, Canada (PRWEB) October 1, 2015 – "Authenticateit provides an innovative solution that can provide huge value to brand owners," says GFSR CEO Tina Brillinger. "The company's platform offers a powerful tool to track, trace and prevent instances of unauthorized distribution and retailing. It's a robust solution that will help brand owners build consumer confidence in their products."
Authenticateit is the first of its kind, cloud base track and trace system that enables brand owners, border protection agencies, distributors & consumers to trade in a safe and trusted environment. The front end of the platform is a free smartphone app that enables consumers or any interested party to access product safety information, authenticity checks and other useful product information, such as certifications, nutritional content, allergens and traceability information. A simple scan of the product's serialized barcode connects a consumer to relevant product information, and allows the brand owner to engage, from a marketing perspective, with consumers. It operates in full compliance with industry standards, while adopting GS1 EPCglobal industry-driven standards. And it provides an inventive, cost effective option for addressing counterfeiting, saving time and ensuring consumers are protected from potentially unsafe and counterfeit products.
CEO of Authenticateit Gennady Volchek says he is very pleased to be in partnership with GFSR, noting that both companies share a mission of enhancing food safety in an increasingly complex global supply chain. "We are actively seeking opportunities to partner with organizations that are as determined as we are to advance the cause of consumer safety and reliability," he says. "Our partnership with GFSR brings us a valuable connection to the people who are on the frontlines of food safety around the world and we appreciate the chance to further extend our solution to a very salient global issue."
Ms. Brillinger notes that, until now global traceability in food has been fragmented along global supply chains. The launch of Authenticateit means brand owners now have a new weapon in their arsenal to protect their branded food products, defend against anti-counterfeiting while providing their customers with end-to-end transparency.
"We are truly proud to become the official North American partner of Authenticateit," she says. "A solution like this will bring great value to our Members. We're delighted to introduce this platform to the food industry. Brand owners will now have greater transparency and protection—but as a consumer the real value is that I will feel more confident in a brand's product if I can use my android or iPhone smart phone to authenticate a product and be notified of a product's authenticity and recall immediately. The way I see it, this solution helps close the gap between brand owners and consumers."
In an era marked by a great deal of food fraud, Ms. Brillinger notes that brand owners now have an opportunity to track their products and grey imports through a unique industry standard identifier
"What's more," she says, "brand owners can also build the confidence of consumers who can now instantaneously authenticate, from the point of origin, where a product is coming from.
"That is nothing short of revolutionary," she says.
To arrange a product demonstration, please contact: Ian Hastings at Global Food Safety Resource at authenticateit(at)globalfoodsafetyresource(dot)com or 1.888.437.7395 x 103.