7 Tips For a Successful Public Health Inspection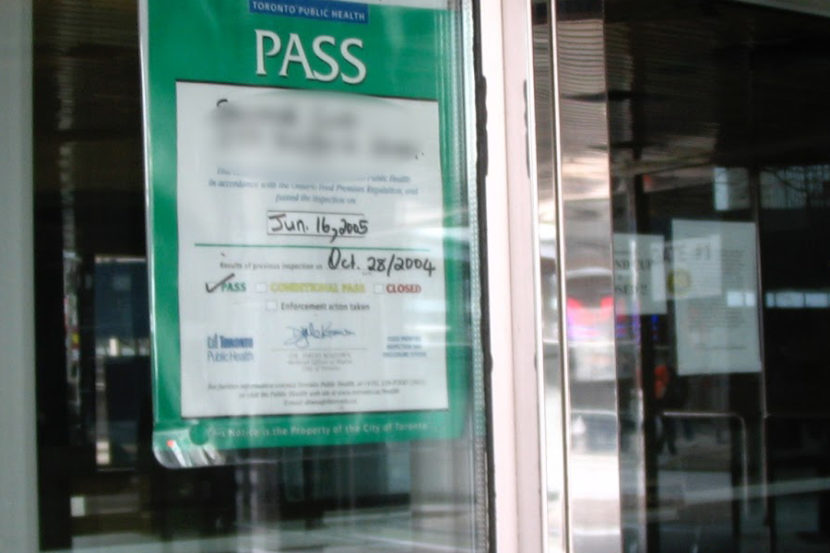 By Brita Ball
Clean washrooms don't guarantee that a restaurant serves safe food or that it will pass a public health inspection. Many customers use washroom cleanliness as an indicator of a clean kitchen, but public health inspectors look more closely at areas that are most likely to contribute to an outbreak if not effectively controlled.
Christina Wilson, Section Chief of Food Protection at Columbus Public Health, says that the most "If you want to be a good food service operator, get certified."common critical violations public health inspectors see relate to controlling food temperatures, keeping food contact surfaces clean, preventing cross contamination, and washing hands. Manage these effectively can help achieve a passing grade.
Control food temperatures
Keep cold foods cold and hot foods hot. According to Ms. Wilson, the most common temperature violation is a failure to keep cold foods cold enough. Almost all premises have refrigeration units, but inspectors often find temperatures in the unsafe zone above 4°C (40°F).
Foodservice operators that serve hot foods need to keep their hot holding temperatures at or above 60°C (140°F). It's also critical to cook foods to their safe minimum temperature, which varies depending on the food.
Temperature requirements vary slightly across jurisdictions, says Ms. Wilson. Check with your public health inspector about correct temperatures for your operation to pass inspection.
Clean and sanitize food contact surfaces
Anything that touches food needs to be clean and sanitized to prevent contamination during preparation. Dedicated cutting boards and utensils can reduce the risk of foodborne illness due to cross contamination.
Inspectors check to see that equipment is in good condition so food debris can't build up in cracks or cuts on the surface. If you don't or can't do a good job of cleaning utensils, dishes or equipment, you might not pass the inspection.
Work closely with your food sanitation suppliers as they can tell you the best products and concentrations to use in your situation. This service is generally included when you buy their sanitation products.
Prevent cross-contamination in storage
Store food safely by covering or wrapping it and placing it at least 15 cm/6" off the floor. Inspectors want to see that ready-to-eat and cooked foods are stored on shelves or racks above foods that will be cooked, as this reduces the food safety risk if something spills.
Label cleaners, chemicals and pesticides and keep them away from food storage and preparation areas to prevent accidental contamination.      

Wash your hands…again
Norovirus (NoV) is the leading cause of food borne outbreaks in the US. According to Ms. Wilson, "The bulk of NoV outbreaks are from food service sources." Food handlers spread NoV and other pathogens if they don't wash their hands well enough or when they change tasks.
Ensure hand washing facilities have soap, water, and drying towels, and coach personnel to use them often and properly to keep customers safe and get a passing grade for this critical element.  
Show that other issues are controlled
Even with control over these 4 common violations, foodservice operators need to effectively manage other aspects of the operation that influence a passing grade.
Jim Chan, retired manager of food safety at Toronto Public Health in Canada, said inspectors also look at pest control, and the level of sanitation and maintenance given to non-food contact surfaces, washrooms, and garbage/food waste areas.
Rodents and insects can spread disease organisms so good pest control is necessary. If there is an issue, get on it right away by contacting a reputable pest control management company. Public health inspectors can close food service operations that show signs of an infestation.  
A lack of care in non-food areas may not give an inspector immediate concern but it indicates how serious the operator is about the whole operation. Control over non-food areas can improve your grade, help control pests and give a positive impression to customers.
Mr. Chan identified food safety training and record keeping as two other areas that help foodservice operators pass their public health inspection.
Get food handler certification
"If you want to be a good foodservice operator, get certified," said Mr. Chan. In a public health study, food premises with at least one certified food handler "achieved a much higher rate of pass" than premises with no certified food handler, he said.
Due to the high turnover of staff in the food service sector, Mr. Chan suggested that a manager or owner/operator gets certified. Even though each food premises in Toronto must have a certified food handler working in a supervisory capacity for it to get a passing grade, certification isn't needed in some jurisdictions.
In Columbus, "a person in charge must demonstrate food safety knowledge," said Ms. Wilson. If this is not shown, the operator could be ordered to successfully complete food safety training as a requirement to pass an inspection.
Ideally, all food service personnel would have at least basic food safety certification to understand what they need to do to protect customers' health. Manager-level training is more in-depth and covers additional material, such as Hazard Analysis Critical Control Point (HACCP) systems.   
Keep good records
Health inspectors have the authority to check records, but these aren't just temperature and pest control management records. "Inspectors can also ask for records of where foods like meat, eggs and milk come from," said Mr. Chan. Operators need to be able to "prove to me that foods were obtained legally from inspected premises."
Review the last few public health inspection reports for your operation and correct all minor violations that were recorded, even if you achieved passing grades. Ongoing minor violations could mean that other issues aren't being addressed.
About the Author
Brita Ball, PhD, consults with businesses to improve their food safety culture, and is an adjunct professor at the University of Guelph.