GFSI-Recognized Food Safety Schemes: Introduction
Third-party verification and certification to food safety standards is a wide and growing trend in the food industry. This means that for businesses to remain competitive they must increasingly adopt certified standards – and be subjected to audits on a regular basis to maintain this certification.
Whether audits are line-specific, product-specific or system wide, audits consume time and resources – so there is great impetus to reduce the total number of audits a business is subjected to by reducing redundancy among global standards and variations in customer requirements.
The Consumer Goods Forum, an international body headed up by some of the world's largest retailers, created the Global Food Safety Initiative (GFSI) to address the issue of differences in standards on a global scale and reduce resultant audit inefficiency.
By 'benchmarking' specific food safety schemes against the GFSI guidance document (currently version 6), standards are identified that are very widely accepted for global trade requirements, providing a common ground for businesses – both those that need to comply with standards, and those that require their suppliers to be certified against them.
While GFSI-recognized standards are certainly not the only ones out there, becoming certified to a GFSI scheme increases a business's desirability to trading partners, and saves money by reducing the burden of multiple customer audits and variations in requirements. As the mission statement of the GFSI affirms, the goal is "Once Certified, Accepted Everywhere".
Ideally, the fewer schemes the better – the more consolidated and all-encompassing the schemes become, the fewer differences will exist between individual customer requirements, and therefore fewer audits conducted. However even as schemes become more alike, due to the nature of the food industry, there are still a few options to choose from. So, where do you begin?
Choosing a Scheme
Starting upstream and working downstream in the supply chain, the descriptions on the following pages provide information about each GFSI-recognized scheme to help orient you as you choose the one that's best. It's important to note that no two GFSI-recognized schemes are exactly alike, but there is a lot of overlap and continuity between them. All schemes cover these fundamental requirements in some form: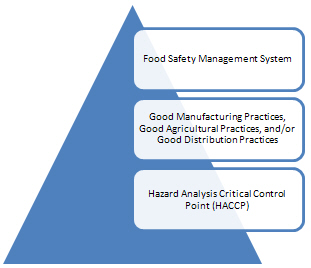 Key differences between the schemes involve where you are in the supply chain (primary producer, manufacturer, logistics/transport and so forth), your product sector (aquaculture, produce, meat, poultry etc.) and also the scope of your business (local versus international trade).
In addition to determining what you are missing, choosing a scheme often means building on strengths you already have. Rather than trying to build from the ground up, conduct an analysis of your existing systems and see how these schemes can augment what you already have in place.
Primary Producers – Food Safety on the Farm
There are 3 GFSI Schemes that cover primary production:
CanadaGAP
GlobalG.A.P. IFA Scheme V3
SQF Code, Ed. 7
Manufacturing Schemes
There are 8 GFSI Schemes that cover manufacturing:
BRC Global Standard Version 5
Dutch HACCP Option B (*note: this scheme will NOT be re-submitted for benchmarking against the most recent GFSI guidance document, version 6; certificates issued after 1 January 2012 will not be considered as issued against a GFSI-recognized scheme)
FSSC 22000
Global Aquaculture Alliance BAP Issue 2 (GAA Seafood Processing Standard)
Global Red Meat Standard Version 3
International Food Standard Version 5
SQF Code, Ed. 7
Synergy 22000